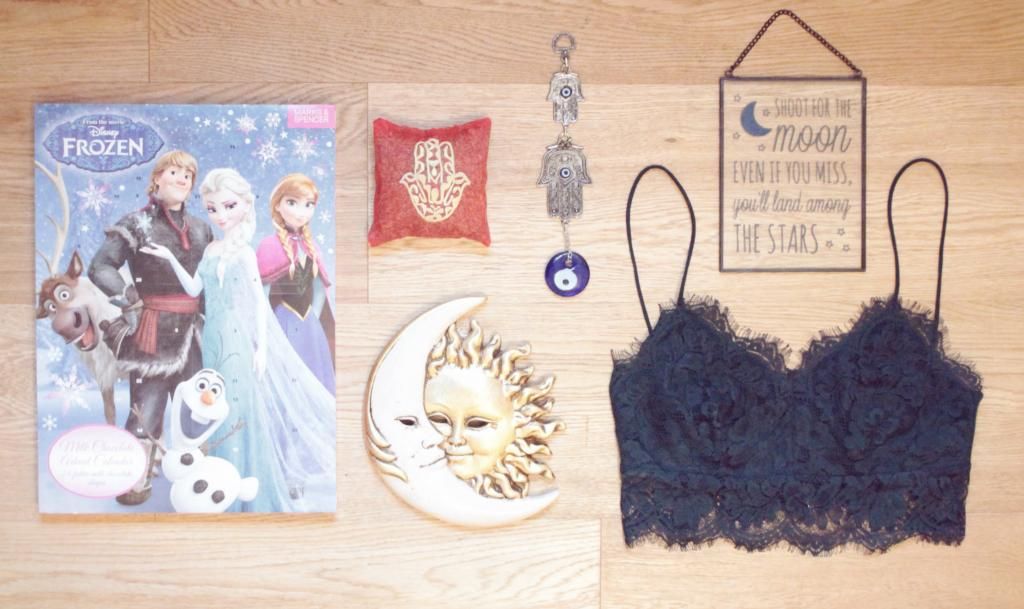 Advent Calender | Hamsa Drawer Freshner | Sun & Moon | Hamsa & Evil Eye | Moon & Stars |
Topshop Bralet |
Please, oh, pretty please ignore the date.
Well, I'll be damned, I've never done a monthly favourites before, av'ah?
Taking that into consideration, I thought I'd throw in a couple extra bits and bobs from the past few months, because you know, I like to live on the edge.
Frozen Advent Calender - M&S
I had to take down multiple three year olds, with force, just to get my hands on this. Talk about gold dust, forget university, I'm getting a truckload of these bad boys and taking to the streets.
Hamsa Drawer Freshner - Marrakech
Cats are oddly drawn to this; I am planning on submerging myself in the scent, then frantically running down the street and letting the neighbourhood cats flock to me, because TECHNICALLY that isn't stealing.
Even as a criminal, my aspirations aren't all that swoon worthy. Plus, I don't have an impressive back story, 'Grew up in Leeds - her bike got stolen a lot.' actually, that'll do fine.
Sun & Moon - Venice
I searched far and wide (consider a lost child searching, hopelessly for their mother in Tesco) looking for the perfect Sun and Moon. All hope was lost, until one fine evening when I stumbled upon these two chumps and fell instantaneously in love (mainly because they look like they're best buddies).
Aww, look, she does have a heart.
#BFFL
Hamsa & Evil Eye - ETSY
Will I buy anything so long as it has a hamsa symbol on it?
No, but I did ask myself a similar question when I watched The Green Hornet purely because Seth Rogen was in it. (horrible decision, terrible film)
Moons & Stars - Love Thy Interiors.
I live in a small town, and when something new opens up, it becomes a big deal, it is everyone's business.
A fair majority of residents are still reeling over the fact that a Cafe Nero opened up next to Greggs, oh the cheek. Anyway, Love Thy Interiors just opened up and the overall consensus looks to be a happy one. It is a beautiful shop, full of wondrous, cute gems, which all have a sufficient amount of swoon to them. *swoon*
Bralet - Topshop
This Bralet. It is so pretty, I love the colour and material, it was just meant to be.
For the time being, I'm wearing it under jumpers seeing as it is autumn and I'm all about them layers.
The posts on this blog will be considerably more Christmas-like after this one.







This post was brought to you from a fort made of blankets.