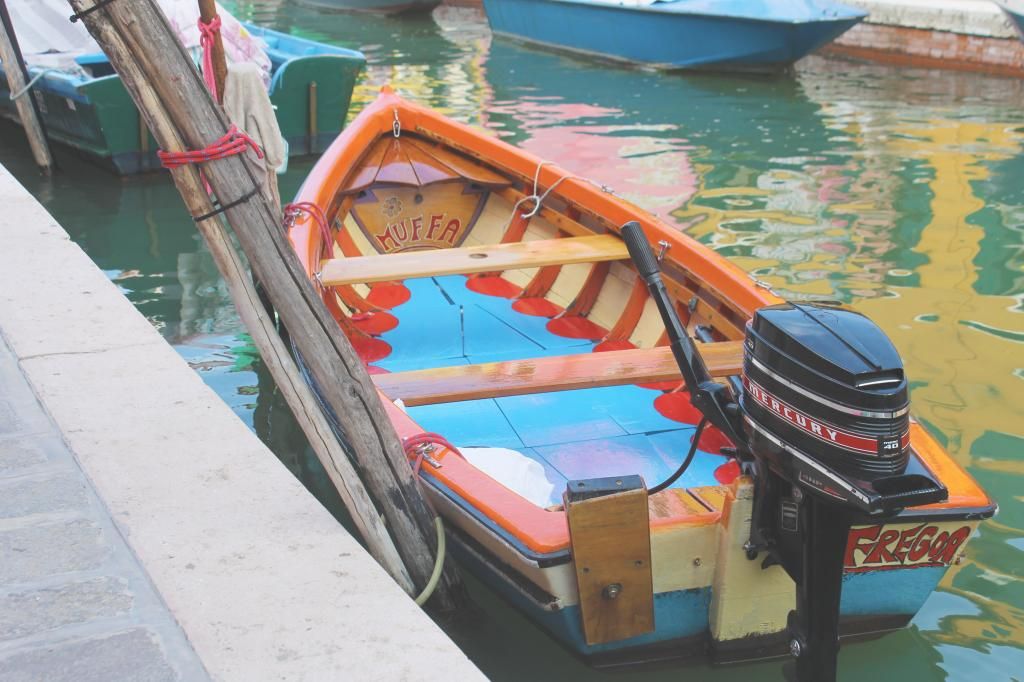 When to go to Venice?
If you don't want to get caught up in the blazing heat, surrounded by hundreds of fairly sweaty, agitated tourists, then follow this simple guide for a smoother trip.
January - February - March.
If you can handle the cooler weather, then these brisker months are the ones for you!
You can explore every nook and cranny of Venice, accompanied with a much welcomed handful of peace and, oh, what's that? Ahh quiet.
Side note - February is carnival time and it will be very busy; most people go purely for the carnival, so if it isn't something that interests you, then I would sit this one out.
April - May - June.
May is the perfect, dare I say the best, month to go to Venice!
You get the warm weather that we, oh so shamelessly desire in England, as well as a bit of peace before summer's over-zealous crowd of tourists, gracefully, trample in on what once was your own snippet of heaven.
If you absolutely have to go in the summer, then very early June would probably be the best time!
July - August - September.
U mad? You've got to be one feisty plucker to brave those summer months.
Thankfully, by the time we reach September, summer's storm has simmered way down, and there is a film festival held on Lido every year, so grab a camera and let's go find me some AL PACINO.
October - November - December.
This is a personal preference, it is going to be bitterly cold nearer November and December, but the hotels will be cheaper, and I imagine Venice has a different type of charm and allure to it in Winter.
How to travel around Venice?
You are going to be getting the Vaporetto (sadly not an ice cream, but in fact a slightly cramped water bus) daily, so you need to follow this guide to be able to use your money more efficiently.
You can buy your tickets at any Tabacchi (newsagents) or at the clearly stated ticket point. I prefer tabacchi's because you don't have to queue up and you can have a look at their fancy selection of pokemon cards.
It is not worth buying a single fair ticket for $7, as it only lasts for an hour and it's a one way trip.
Follow this guide.
1 day ticket - $20
2 day ticket - $30
3 day ticket - $35
7 day ticket - $50
These tickets will take you anywhere, at any time, and as often as need be so long as you remember to validate your ticket before boarding!
There will be a little machine before you get on the water bus, where you should swipe your ticket, and it will beep at you, kinda like scanning a clubcard at Tesco, except it won't shout at you. Then your ticket is validated and you're all set!
The Food Guide.
When in Venice, it is only appropriate that you consume extreme amounts of the three key dietary requirements:
Tiramisu, Gelato and Hot Chocolate.
In recent years, Venice has sadly become quiet notorious for its bad food, so take these tips into account when eating.
It's full of tourists - Awh hell nawh
These businesses make all their money off tourists who will most likely eat there once and never return.
If there is someone standing outside the restaurant - Oh gurl, hold me back.
Do you really think good restaurants need to beg for customers?
If they have a tourist menu written out in 20 different languages - Hold my rings, gurl.
Well, it definitely isn't the greatest idea.
Forget meals all together and fill up on delicious paninis and pizza slices at snack bars!!
Eat whilst you go, it'll give you more time to explore and it is soo much cheaper.
Meet your new bestfriend - TRIP ADVISOR (will not french braid your hair or paint your nails)
Trip Advisor is great for planning out specific places you want to eat at, and it doesn't hurt to just quickly check out a place before eating there. I like to write down the names of restaurants I see throughout the day, and then I'll look it up on trip advisor when I get back to the hotel.
Service Charge.
Most places in Venice have something called a service charge, which is an extra $2, per head, on your bill for just sitting down. For sitting down!
Those tables and chairs aint gonna pay for themselves.
To tip or not to tip?
It is not mandatory to tip and Venetians do not expect a tip. You might find, what with the crazy expensive food, the service charge, and the so so service, that it just isn't necessary to tip.
But by all means, tip when you've had amazing service and a great time!
We tipped a wonderful Gondolier and a witty waiter who sadly thought I was joking when I ordered him back to England with me.
Also, if the bill says servizio incluso then the tip is already included.
LEARN THE HISTORY.
Whenever we had history in school, I was always snoozing somewhere in the back, making bad eyeliner choices and thinking about spaghetti carbonara (ask no questions), so it came as quite a shock when I found myself doing everything possible to find out more and more about the history of Venice. You have to appreciate the fact that Venice is over 1500 years old and everything you look at and walk on has so much history and unadulterated beauty to it.
Street Sellers + Beggars
You might first notice the street sellers when the words 'GENUINE FAKES!' catch your attention. And whilst people seem to be more concerned about whether their friends will suss out it's a fake, along with their desperate, last minute duty free purchase of a self tanner, which they applied frantically in the airport toilets, and when questioned, they'd say 'No, it's real, I swear, the sun is just really low in Heathrow, I MEAN VENICE', when in reality they should be concerned about the fact that it is ILLEGAL to buy counterfeit goods.
The street sellers are constantly running from the police, as soon as they get whiff of a police man, they'll be off in a jiff. The goods that they are selling are suspected to be supplied by a bigger man... (The Mafia) *hides under blanket* shhhh.
* Just to clarify, street sellers are the ones selling things on towels on the floor, unlike street vendors, on a kiosk who actually have a license.
Do not give beggars money! They are not homeless, this is there job!
They all most likely live together and they can easily afford to commute to work on the water bus each morning. They might look incredibly ill and sick, but hell hath no fury if they are about to miss the water bus they're running for, this is, of course, despite not being able to walk a short minute ago.
It is all fake and they are experts in exploiting the kindness of tourists.
I was actually surprised to find out that begging is illegal in Venice, because there are so many, but the police will actually intervene and arrest them as soon as they spot one.
I went to Venice again, cos yolo n stuff.