Frankenweenie is a stop motion Disney film directed by The Great Tim Burton.
Tim Burton first came up with the idea of this film when he lost his childhood pet, he then pitched it to Disney 25 years ago, but they shunned him away saying it is too dark and unsettling for children- not princess falls for prince enough for them, but now times have changed and Disney welcomed it back with open arms! Yay.
I would say that it stays in touch with the roots of Tim Burton films, kind of darkly funny but very sad for anyone who is a dog lover. I found it sad, I must have cried a good four times in this film. I'm sorry but if you are killing off dogs do not use a POV camera angle.
I will cry.
A lot.
Poor Sparky.
He just didn't see that car coming...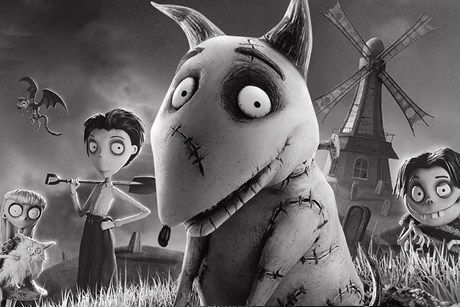 Within 20 minutes of this film you will find yourself truly lost in a different world, mainly because the film has being conducted so well!
This film is really funny in some parts, mainly because of the way the odd characters who have their own terrifyingly funny personalities are portrayed.
The only thing I didn't like is the 3D, it didn't seem that 3D like and it may have well just being in 2D because 2D is better anyway.
Could not reccomend this film enough though. I love it.
Good Job Tim.
Mad Hats off to you sir.
♥